Nestled almost equidistant from both Buffalo and Rochester, the Village of Medina is a rural New York enclave noteworthy for its multi-shaded sandstone, "Polar Express" railroad museum depot, and quaint stop along the state's Niagara Wine Trail.
But with a population just north of 17K, it's also a place where one person can make an impact on plenty of lives. Luke Nelson was a testament to this. The Medina native—who passed away in February 2017—was a local skateboarder who took time between honing his own skills to encourage young thrashers who'd skate the ramshackle ramps at John E. Butts Memorial Park. His nurturing nature left an indelible imprint on Medina's closely knit skateboarding community.
However, this wasn't the only change Nelson sought to make.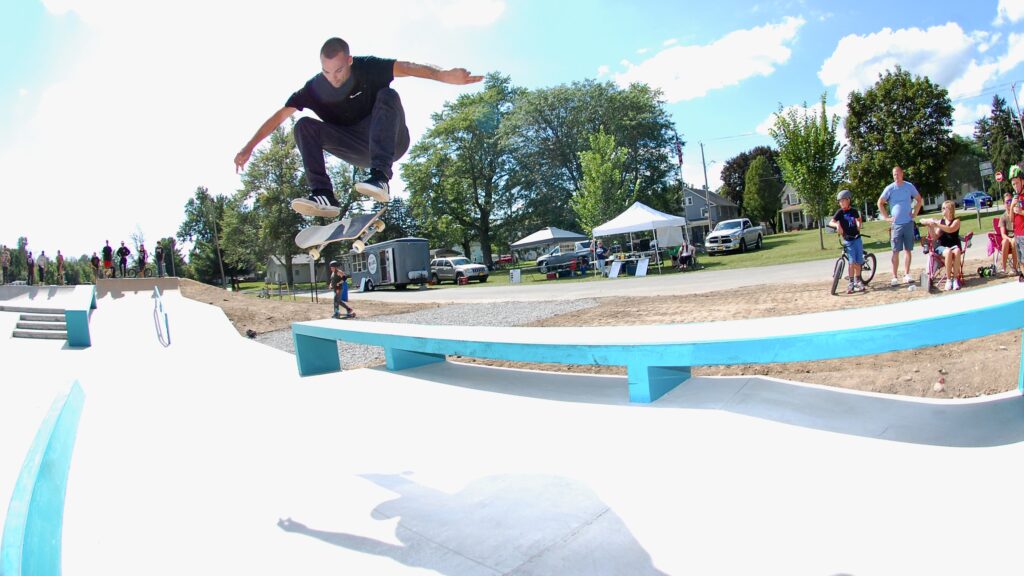 According to his friend and fellow skateboarder Alex Feig, Nelson wanted to make sorely needed repairs to the ramps and obstacles at Butts Park, and was ready to use his own money to do it. He just didn't know where to start. After his death, Nelson's family sought to memorialize him with a simple bench at the old skatepark, but Feig thought they could do better. With the formation of the Medina Skate Society, he wanted to carry through on Nelson's aims for the skateboarding community he left behind, and properly honor a figure whose kind disposition and direction helped so many—including Feig himself.
Now, after years of committed fundraising by the Nelson family and Feig—and a $250K matching grant through the Built to Play Skatepark Program—the Luke Nelson Skatepark is a reality. Constructed atop the tennis court-laden footprint of the former skatepark within Butts Park, the environmentally sustainable expanse stands as more than what was initially imagined, with grind ledges, concrete ramps, and obstacles for experienced and novice skaters alike.
But for those intent on connecting Nelson with the present and future of the ever-growing Medina skateboarding community, the skatepark is a fitting tribute to what support can yield—especially within the smallest communities.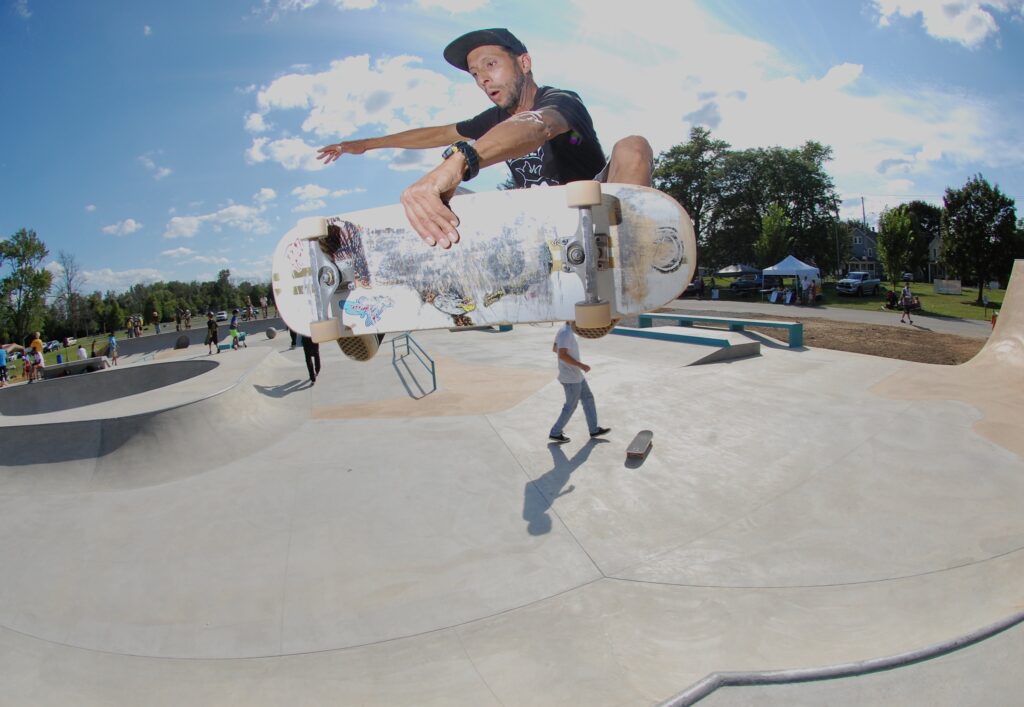 Throughout the below Q&A, Feig—now acting President of the Medina Skate Society—discusses Nelson's memory, how his family's idea for a bench became a skatepark, and what it all means for the future of Medina.
Question: A lot of kids who'll skate at Luke Nelson Skatepark never had the chance to meet the man the park's named for. If you were to describe him to these kids, what would you say?
Alex Feig: I'd say he was a really good dude. He was a very talented skater, and a great guy to be around at the skatepark. When I was growing up, he was a year older. All the older guys at the park could skate better than me, and I felt like kind of a poser at the beginning. But Luke never put that label on anyone. He was quiet, but was generous with his time, and would always encourage people. I've gotten the same story from my other friends, too, ones who were at the same level as I was. Luke was just so supportive of everyone out there trying [to get better].
Q: How did the idea behind the skatepark originally initiate?
AF: I bumped into Luke at a local bar, and we got to talking about the Medina skatepark. It was on an old tennis court with some ramps on it, and it had been there for more than 20 years. He really wanted to fix it up, and he'd even pay for the materials, but he didn't know who to talk to so he could get the ball rolling. I told him I was on board—then a month later, he passed away.
Soon after, I found out his family was raising money [through the Luke Nelson Memorial Fund] for a bench to put at the old skatepark. I connected with the family and told them about my conversation, and how Luke wanted to fix the whole park. Thankfully, we found out about Built to Play and [then] Tony Hawk Foundation grant, applied, and now we have a new skatepark.
Q: If you could describe the Medina skate community in one word, what would it be, and why?
AF: I would say "supportive." Everyone who skates around here is generally happy just to see other people skating, and they're willing to spend time teaching some of the younger kids who are new [to the sport] or encourage those who've been at it for a long time.
Q: What do you hope the skatepark does for Medina's present and future?
AF: There are a lot of other developments going on in Medina right now. But for the kids, this might be the most exciting and coolest development. For the future, it adds to quality of life in the area, and will be something kids can flock to. I know we'll have our group from the last park there, but I hope it becomes a hub for young skaters and families, too.
Q: Finally, what advice would you give to other cities and towns across Southeastern Michigan and Western New York interested in applying for grant monies from the Built to Play Skatepark Program?
AF: Just go after it. If people doubt you or think this is a moonshot, just keep going until you find people who'll support you. And if you're tenacious about it, you won't fail. Just keep working and you'll get there.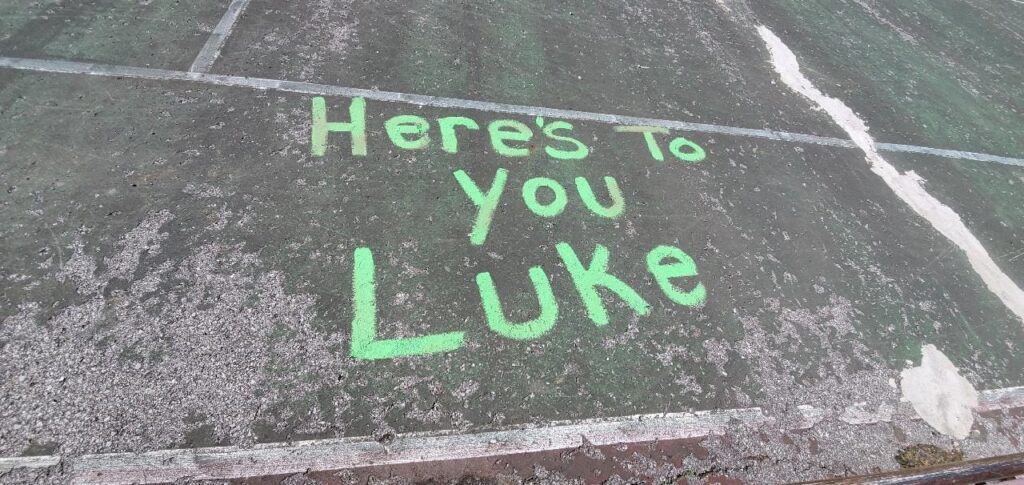 To learn more about the Built to Play Skatepark Program, its grant opportunities and ongoing efforts throughout Western New York and Southeast Michigan, visit The Skatepark Project at www.skatepark.org.