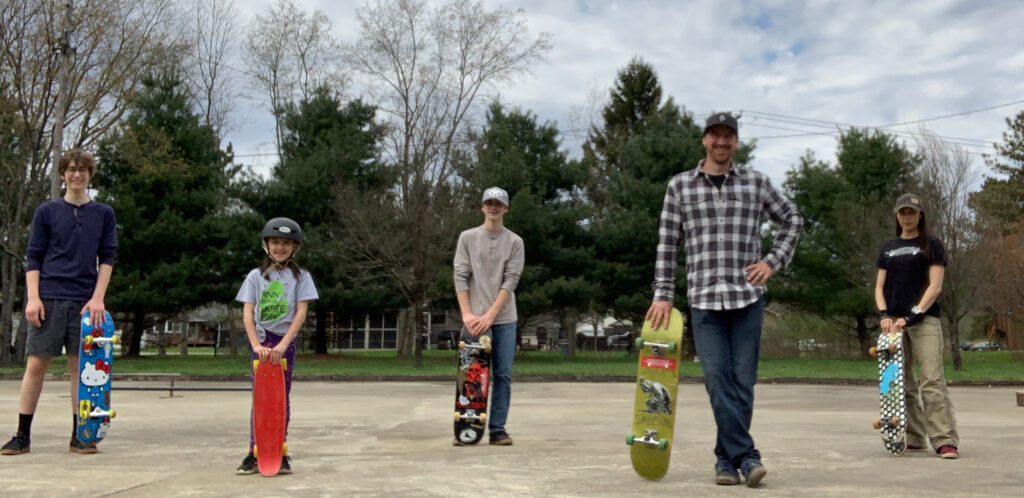 Ellicottville, New York is no stranger to standing as an enviable enclave for outdoor recreation.
Set about 55 miles south of Buffalo and just above the state's Southern Tier, the locale accommodates those interested in hiking, biking and fishing—but nothing lures a bigger portion of Ellicottville's nearly 1.5 million annual visitors than its ski slopes. Providing the most favorable use of the Buffalo area's annual snowfall throughout its winter months, the slopes play host for downhill runs and maneuvers by snowboarders of all ages, which adds to the warm, inviting vibe that reverberates throughout the village in its coldest months.
But when the snow melts, where are these boarders supposed to take their passion for ollies, melons and nose grabs? Enter SK8EVL, the local initiative working to add a transformative skatepark to Ellicottville's Village Park, and unveil a complementary offering to a ski community known for its outdoor fun.
Led by the wife-husband team of Brenda and Chris Perks, SK8EVL was born from enthusiasm for skateboarding, and with the aim of providing an available expanse for residents and visitors to skate. Both Brenda and Chris have been avid skateboarders, as are their two children. But in a community filled with cozy streets and sidewalks amid quaint bars, restaurants and shops, places to skate aren't readily available. After initially exploring the possibility of building an indoor park in 2017, financial realities led the couple to re-evaluate their plans. One year later, they connected with the Tony Hawk Foundation (now The Skatepark Project) and learned of the possibility of funding for an outdoor park.
Now, after being awarded a $250K matching grant through the Built to Play Skatepark Program—and following years of groundwork, fundraising and overcoming challenges posed by the COVID-19 pandemic—the yet-to-be-named Ellicottville Skatepark Project is on the precipice of realization. Once complete, it will open a premier, environmentally sustainable expanse for skaters of all ages to hone their skateboarding (and snowboarding) moves, all while adding another family-friendly attraction to bolster its host village's unifying ethos.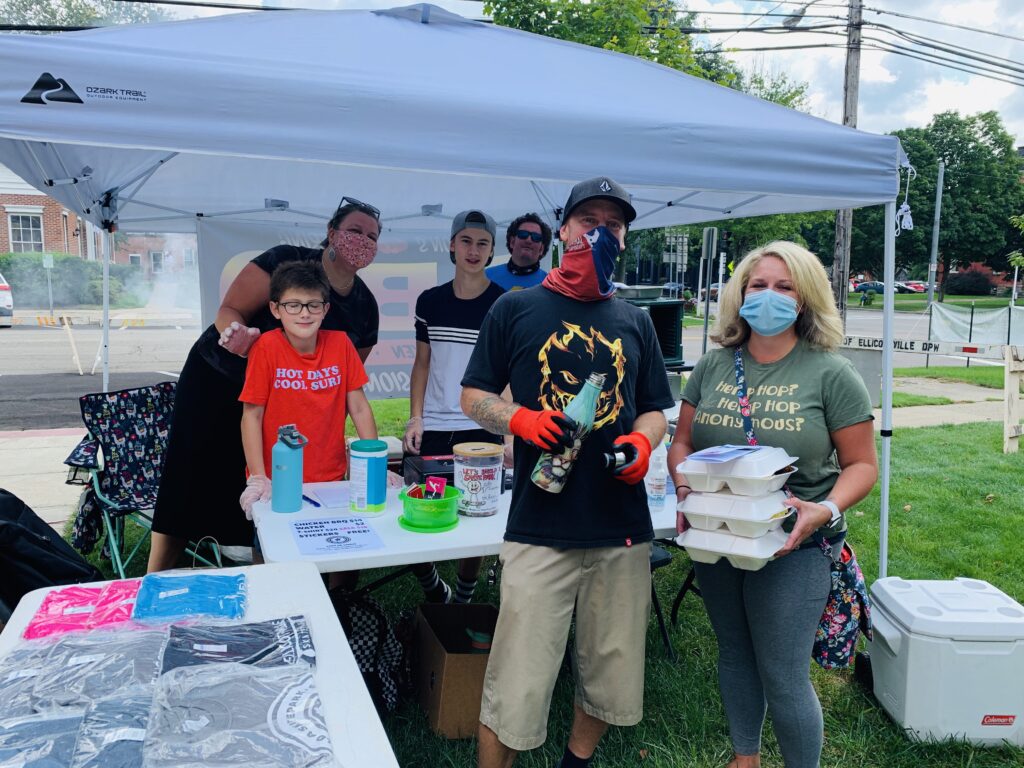 Throughout the below Q&A with Brenda and Chris Perks, both discuss how Ellicottville's vibe makes it an ideal locale for skateboarders, as well as their fundraising efforts and what their forthcoming skatepark will mean for the village and neighboring Southern Tier region.
Question: How much does Ellicottville's designation as a ski and snowboarding destination complement its possibilities as a popular skateboarding locale?
Brenda Perks: Our area is known for its skiing, but it truly has become a four-season resort destination. There are so many outdoor activities for residents and visitors to take part in during the winter and summer seasons—from skiing and tubing to hiking and downhill mountain biking to golfing, swimming and ziplining. Plus, our local Chamber of Commerce produces over a dozen different festivals throughout the year, welcoming families to celebrate together as we enter each new season. Skateboarding complements the overall variety of outdoor recreation our town offers. It just fits.
Q: How was community collaboration essential in pushing your skatepark plans forward through the toughest of circumstances?
BP: About three months into fundraising, COVID hit, and the world shut down. Fundraising during a pandemic is next to impossible, but we came up with creative ways to continue our efforts, and the businesses, the locals and even our part-time homeowners answered the call. Now that we're back to in-person events, the momentum has only grown stronger. We're ecstatic at the support this project has received.
Q: Is there a memory made throughout planning or fundraising that is particularly special to you and your team?
Chris Perks: I think overall, it's just the sense of community and the feeling of knowing that we're doing something good for our area. Our committee has worked really hard to advocate and showcase the positive effects that skateboarding can have on people. And to be able to work with our local leaders and with a renowned foundation such as The Skatepark Project shows this is real. Now, we're excited to see the skatepark get built, used and bring people together.
Q: What do you hope the skatepark does for Ellicottville's present and future?
BP: We know the skatepark will bring people together. The sport continues to grow in popularity, especially with its debut in this summer's Olympics. Skateparks are popping up all over Western New York and we're already seeing a circuit developing. This opens the door to introducing more local kids and adults to the sport, hosting fun events and being able to give back to the community that supported us through this whole process.
Q: Finally, what advice would you give to other cities and towns across Southeastern Michigan and Western New York interested in applying for grant monies from the Built to Play Skatepark Program?
BP: Form meaningful connections. Since starting our fundraising efforts, we have connected with other communities in Western New York currently participating in the same grant program. Jamestown, Hamburg, Buffalo—we're all supportive of one another and share ideas with each other. If advocates from other towns want to jump onboard and need advice or want to pick our brain, reach out to us. We're happy to share our experience, including what worked and what didn't work. We're all in this together—for the love of skateboarding.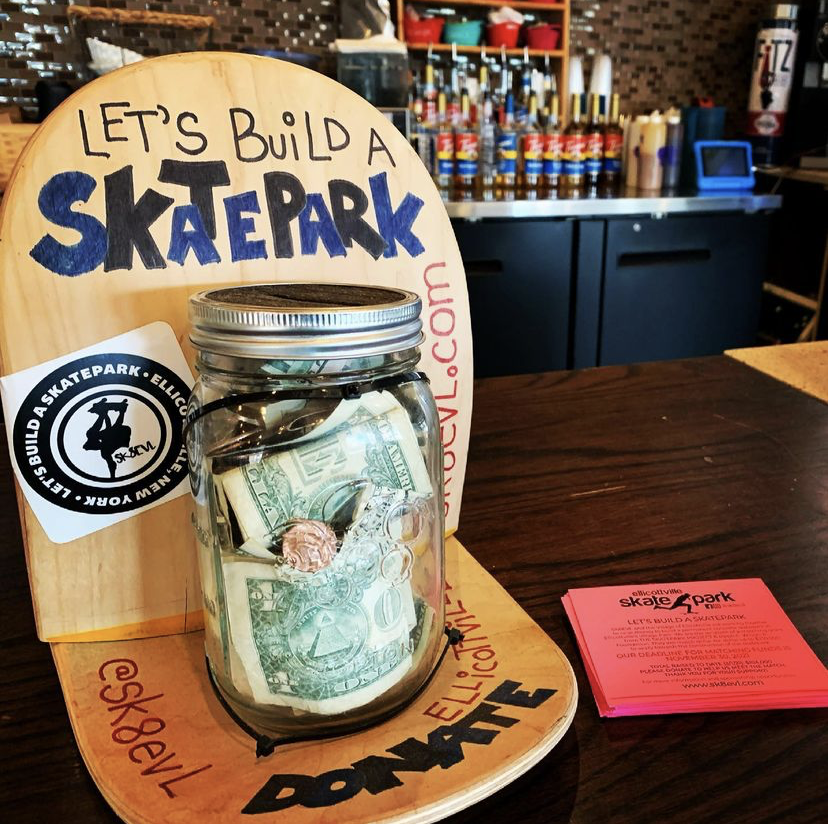 To learn more about the Built to Play Skatepark Program, its grant opportunities and ongoing efforts throughout Western New York and Southeast Michigan, visit The Skatepark Project at www.skatepark.org.