According to the Environmental Protection Agency (EPA), pollution from urban stormwater runoff—generated from rain and snowmelt that spread across land or impervious surfaces—impairs water quality in approximately 5,000 miles of estuaries, 1.4 million acres of lakes and 30,000 miles of rivers. This stormwater runoff accounts for an estimated 70 percent of water pollution in lakes, rivers and creeks, depositing pollutants like trash, chemicals and harmful sediment into each.
Alleviating this ongoing issue requires enhanced environmental sustainability measures from all corners of waterfront communities; and over the past two decades, efforts have come from various government programs and green-focused initiatives.
But in recent years, ambitious efforts to curb this environmental degradation have come from a surprising faction of American life: the skateboarding community.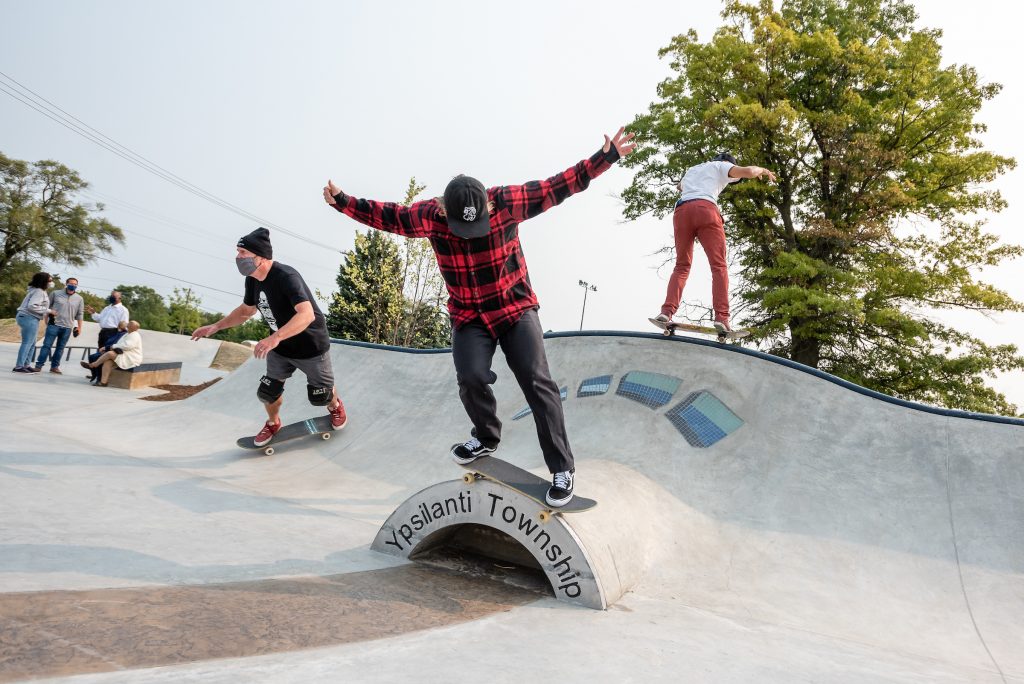 "What might be so shocking to the public—that skaters are interested in the environment—is not shocking to them at all," said Dave Elkin, founder of Portland, Oregon's Juncus Studio and environmental design consultant with the Built to Play Skatepark Program. "If you talk with members of that community, they'll tell you that it's one of their core values."
Bolstered by support from the Built to Play Skatepark Program—an initiative led by the Ralph C. Wilson, Jr. Foundation in partnership with The Skatepark Project (formerly Tony Hawk Foundation)—communities are now inventively conceiving and constructing environmentally friendly skateparks across the 16 counties of Southeast Michigan and Western New York served by the Wilson Foundation.
And with initial inspiration hatched by an environmentally innovative expanse in the Pacific Northwest (and extra planning time due to a construction pause from COVID-19 protocols), these skateparks across the Rust Belt will provide an innovative example of how conservation can be cool—and enhance their host neighborhoods for generations to come.
From "Eggs" to ideas
Dave Elkin has spent more than two decades devising designs that embed natural systems into urban expanses, whether with his Juncus Studios or managing projects for the City of Portland. During his tenure with the latter, he played an integral part in the creation of Portland's Ed Benedict Skate Park in May 2009, heralded as the country's first "environmentally sensitive" skate plaza. Amid its 18K sq. feet of ledges, edges and rails for skateboarders to execute grinds, fakies and kick-flips, the New Line Skateparks-designed locale was built with recycled and sustainable materials, as well as complemented with native plantings and on-site stormwater treatment measures essential to its operation—and for the betterment of its host community.
It was an impressively collective effort to produce an ollie oasis now affectionately known by its patrons as "Eggs Benedict"; and for Elkin, he hoped it was a sign of things to come.
"What was great about that was the collaboration between the designer, the city and the local [skateboarding] community that had been fundraising for the project," he said. "There was a little fanfare around the idea here and there, but I thought it was pretty much the best thing I've ever seen in my life."
Years later, Elkin's green design expertise brought in work from Detroit, which eventually connected him with the Built to Play Skatepark Program partners, who where looking for someone who knew about facilitating stormwater management within these expanses.
Elkin knew plenty—thus facilitating Built to Play skateparks' eventual path to environmental sustainability.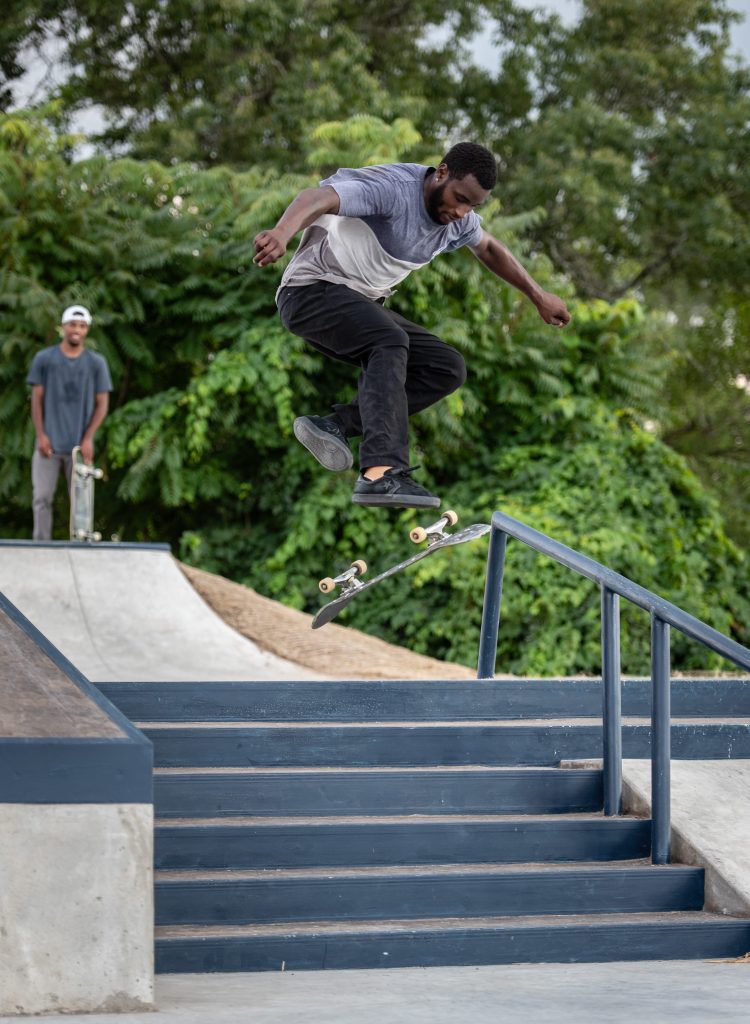 Funding an impact
For more than three years, the Built to Play Skatepark Program has awarded matching-grant funds of up to $250,000 to support community groups and municipal entities seeking to create free, public skateparks that serve low-income communities.
But before the first Built to Play-boosted park—Detroit's Riverside Park—opened in 2019, there was Michigan's Ann Arbor Skatepark. Ann Arbor's design included an area of greenery and flowers specifically to accommodate stormwater runoff for its 20,000 sq. feet of concrete. After a visit by members of the team following Riverside's opening, it became the inspiration for its pursuit of incorporating environmentally focused elements into all its skateparks that followed. A focus on factoring in such measures was also included in the next park to be opened—Ferndale, Mich.'s Geary Park—and initiated an opportunity to increase funding from Built to Play to encourage that such features be inserted or included into all yet-to-be-completed projects by each community's design and construction teams.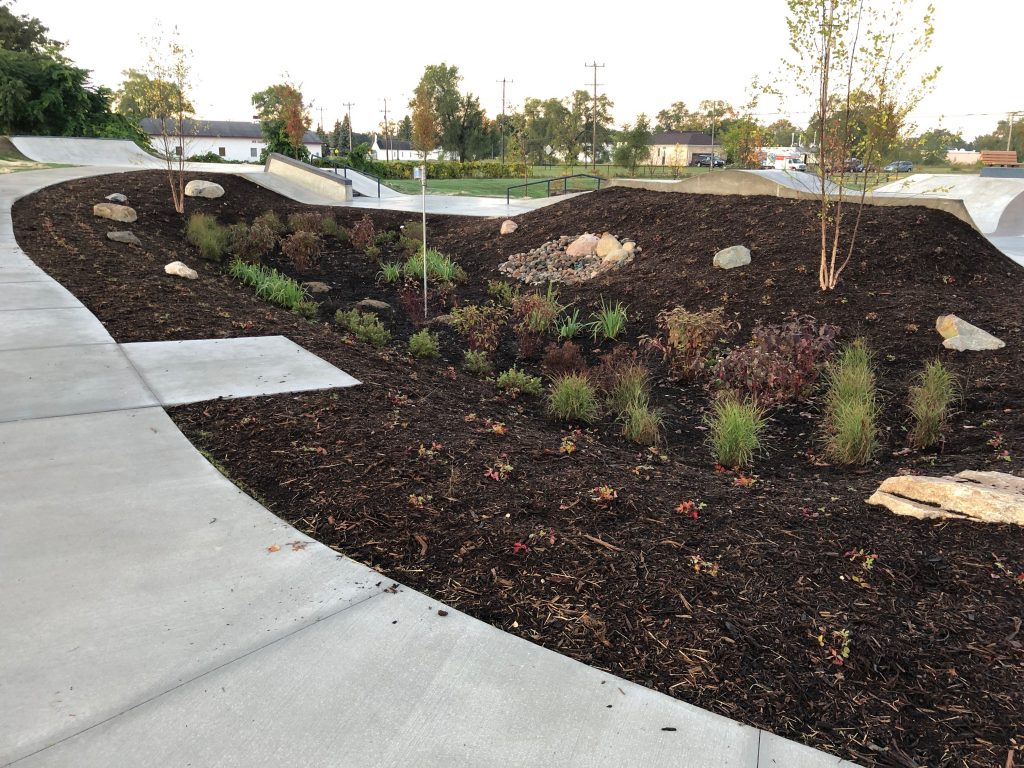 Now, its $50K Environmental Impact Award is part of the grant, and pays for applicants to fund processes and design features that lessen the environmental impact of the skatepark, as well as advisory services and advocacy training to help community groups manage their efforts.
"This isn't just about including design elements for the skate community," said Trevor Staples, skatepark manager with Built to Play who was originally involved with Ann Arbor's influential expanse as well. "It's about including design elements for the environmental sustainability of the community as a whole. That's where this impact award comes in, and can contribute features and practices that can lessen the environmental footprint [of these projects]."
And these features don't take away from the bowl curves and other street-skating elements that make these parks so desirable to skaters of all levels. They're adding to inventive and complementary concepts that are individualized for each location. From site selection on degraded sites near public transportation; design elements like hardy plantings, shade trees and on-site stormwater management; and using recycled concrete, metal and coal ash for construction, all measures are now part of skateparks either in design or underway across Southeast Michigan and Western New York.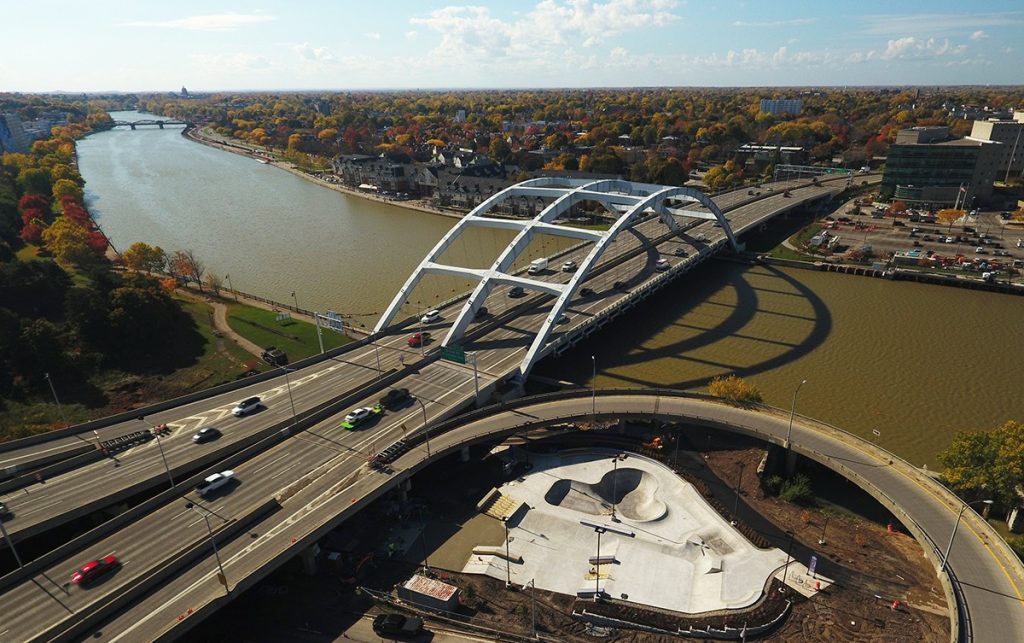 Because of COVID-19 restrictions, many parks that were due to be constructed and opened by the summer of 2020 were paused. This was initially deflating, but according to Staples, it gave the communities and municipalities devising these locales more time to adjust concepts to incorporate even more sustainable elements into their projects. From Rochester's Roc City capping an unusable location for an attractive urban skatepark to Jamestown's incorporation of old parts from a shuttered trolley factory into its under-construction concept, the pause delayed use, but expanded ingenuity.
Planners and skating enthusiasts have taken advantage of the moment—but according to Elkin, they certainly didn't need more time to understand the importance of these measures. They've been on board since the jump.
"The skateboarding community isn't being told or regulated that they must do this. It's one of the first times in my career that I've ever seen a community or organization really step up and say, 'I think we should take this on. I think we should do this because it's the right thing to do.'"
Big air—and more bioswales
Now that COVID-19 restrictions are beginning to ease in communities across the country, more skaters will have the chance to safely enjoy the four fully completed Built to Play parks in Michigan and New York, as well as the seven that are due to open by the fall of 2021.
One of the locations opened amid the pandemic was Ypsilanti Township's CommUNITY Skatepark, established by the tireless work of Washtenaw County, and recently honored for their excellence in environmental design by Michigan Recreation and Park Association's 2021 mPark Awards. Unveiled in September 2020, the park features storm water management capabilities accented by a central rain garden full of colorful plants and trees native to its home state; and implemented to enhance the structure's sustainability, contribute to the ecology of its host park and prevent runoff into the nearby Huron River.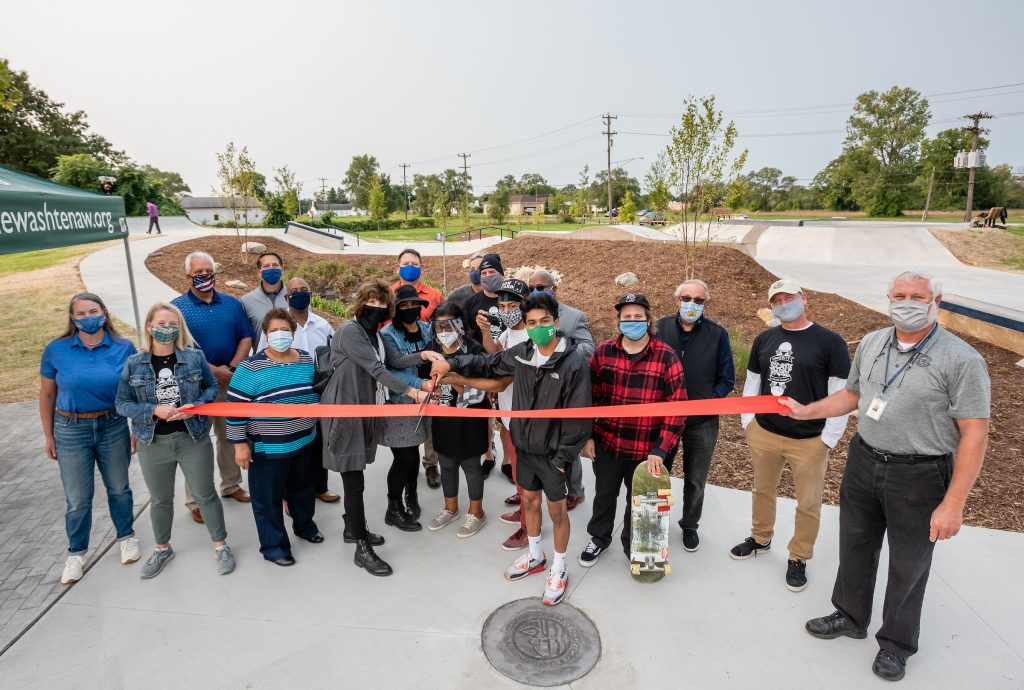 Eliminating this runoff prevents the type of pollution that continues to concern the EPA and like-minded environmental organizations, and stands as an ideal example of how a place seen by many outsiders as merely a concrete jungle for four-wheeling adolescents actually operates as a transformational entity for its host community.
For Meghan Bonfiglio, deputy director of the Washtenaw County Parks & Recreation Commission and one of the driving forces behind CommUNITY, the project also shows what establishing an asset like this means not just for Ypsilanti, but for the development idea itself.
"[This project] shows that you can do cool things like a skatepark, and do it in a way that's environmentally responsible," said Bonfiglio. "You can integrate sustainable elements into a design, but it doesn't prohibit you from incorporating other things, too."
This is the reality that development of any kind has discovered in recent years, as incorporating sustainability elements is now commonplace with small- and large-scale projects of all types. Government regulations have been developed to alleviate increasing environmental concerns, but business operation alone can't fully alleviate these concerns. It takes action from local organizations and individuals as well. That's why, whether you're building a high-rise or a place for kids to airwalk, it's not just about adhering to rules: it's about doing what you can to enhance the health and vitality of your neighborhood.
"Fundamentally, when we're doing any sort of design—whether it be a building, park or urban plaza—more and more cities are beginning to require stormwater management," said Elkin. "Some of this comes down from the EPA, but what we're really talking about is [a project] doing right by the environment."
Thanks to the Built to Play Skatepark Program, more skaters will see more of these environmentally responsible projects soon, with sustainable strategies teaming with traditional accentuates and obstacles to create skateparks set to become vital cogs of vibrant communities.
To apply for a Built to Play Skatepark grant, and to learn more about the organization's environmental sustainability efforts, visit The Skatepark Project at www.skatepark.org.