When members of the Chandler Park Conservancy announced intentions for a $20 million renovation of its century-old, 200-acre namesake in 2015, their masterplan did not include constructing a skatepark.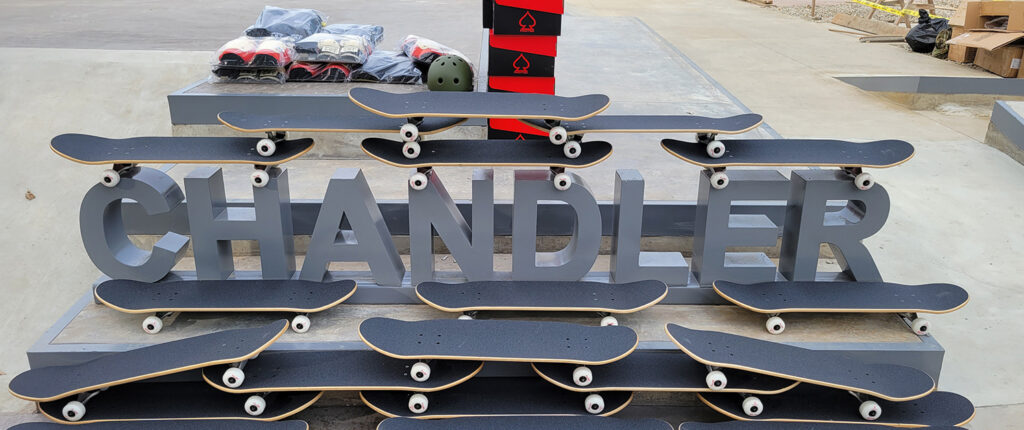 There would be improvements to athletic fields, basketball courts, community gardens, and environmental sustainability measures, but a vast new skatepark—constructed to cater to Detroit's burgeoning skateboarding community, and designed to complement the architectural features of its surrounding neighborhood—was never envisioned by community members intent on resurrecting public space so dear to the community.
But that was before the Conservancy realized what skateboarding could do for Chandler Park.
"Initially when we started this planning process, we didn't really understand the skateboard community," said Alex Allen, President and CEO of the Chandler Park Conservancy. "Then, we added a board member, Keviyan Richardson, who's a skateboarder, and brought to our attention how the sport was a real life-saving situation for him."
According to Allen, Richardson—who's been skating since kindergarten—found skateboarding as a revelatory activity, one that brought him out of his shell and taught him the importance of resilience and perseverance. He was passionate about bringing these same lessons into the heart of his community, and together with Conservancy leadership—and buy-in from those surrounding Chandler Park—they pursued plans for a signature skatepark on the east side of the Motor City.
Now, with tireless fundraising joined by a $250K matching grant through the Built to Play Skatepark Program, the Chandler Park Skatepark will officially open to the public with a ceremonial ribbon-cutting on Saturday, Oct. 23. Its ramps, obstacles and instructional classes are ready to train the next generation of grinders. But nestled against its bucolic backdrop, it's also set to be a visually innovative addition to an expanse intent on serving as the epicenter of activity of its host community—as well as a melting pot of ages, ethnicities and attitudes that positively identifies the international skateboarding community.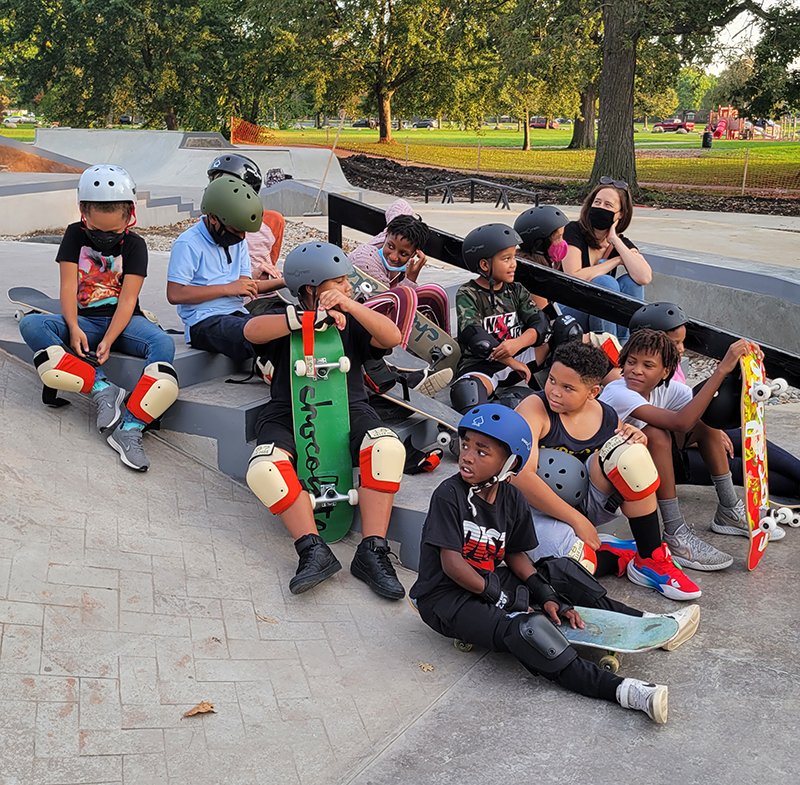 Throughout the below Q&A with Allen and Chandler Park Conservancy Program Director Yvette Bass, both discuss how their organization gravitated toward its skatepark project, what it could mean for the park long-term, and how guidance from the Built to Play Skatepark Program made it all possible.
Question: Why is skateboarding important to the Chandler Park Conservancy?
Alex Allen: It's important because we're offering something that's different on the east side of Detroit. Kids already play basketball and football [in the park], so this is the opportunity to do something a little bit different. There's no other skatepark like ours on the east side, so it provides some great opportunities for kids to do something different. Kids can just get a skateboard and go out there; they don't have to get a team of people to play. It gives kids another outlet for exercise, and a place where they learn how to fall and get up again. There's a lot of life skills that go along with skating, and we think that's a plus.
Q: How does the local interest in skateboarding complement Detroit and benefit its residents?
AA: Skateboarding is an opportunity for a lot of younger people who aren't into team sports to go out and do their own thing, express themselves, but still be part of a community. Over time, this community has slowly started to percolate; and within the past few years, the city has really embraced skateboarding, its growth and the opportunities [these parks] create. We're not skaters, but when you look at it as laypeople, the great thing about this community is that there are no real dividing lines. We see young and old, Black, White and Latino all skating and helping together to make one big, strong community.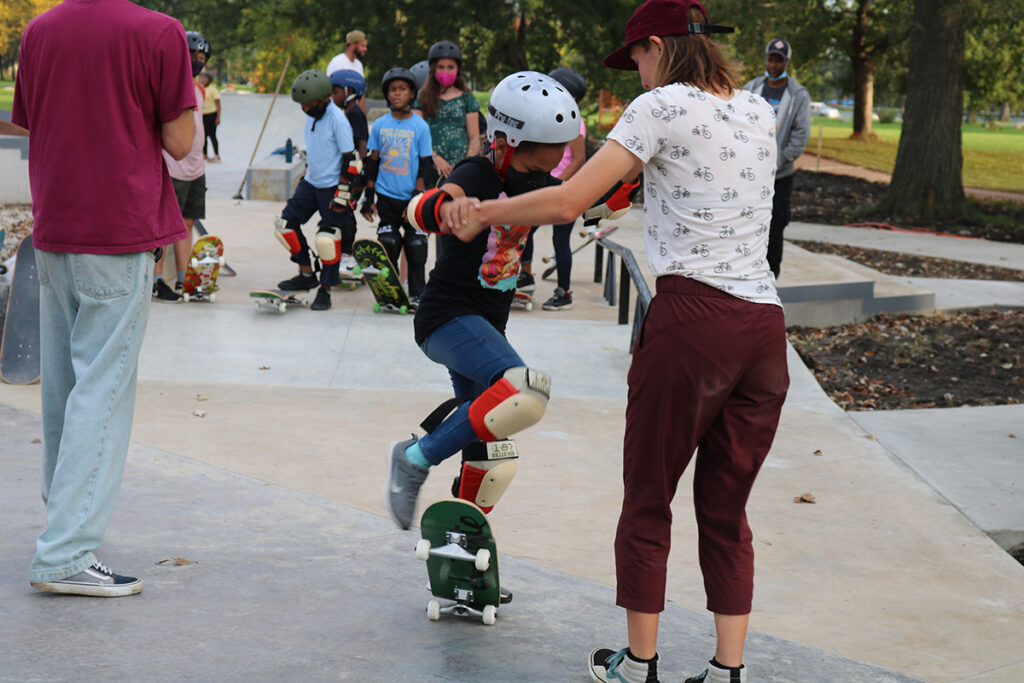 Q: How did collaboration from the Chandler Park community members and others take the skatepark idea from conversation to creation?
Yvette Bass: We developed a skatepark committee, made up of residents, local skateboarders and Alex, me and Keviyan [Richardson]. From there, we had about eight to 10 meetings to develop the RFP that would go out and decide what we wanted the skatepark to look like. We wanted it to be representative of the community and have design features that represent its housing stock. We have some reds, some golds and some red brick, as well as some other features [reminiscent of] the gable-pointed roofs throughout the east side of Detroit.
AA: But before we could even get to the design phase, we had to convince residents that Black kids were into skateboarding. This was an issue, and Keviyan was instrumental in convincing the community that Black kids do skate, and that we weren't just suggesting a development for kids who don't live in this community. Once they were convinced of that, it made it much easier to move forward [with this plan].
Q: How did the funding and technical assistance from the Built to Play Skatepark Grant Program impact the project?
AA: Well, without it, [the project] probably wouldn't have happened. Trevor [Staples, from The Skatepark Project] has been priceless in this whole process, helping us to find additional funding, and keeping us motivated and focused on what we're trying to do. He's done these skateparks before, so he knew some of the hurdles that we were going to encounter. Without that support from him and funding from Built to Play, this just wouldn't have been possible.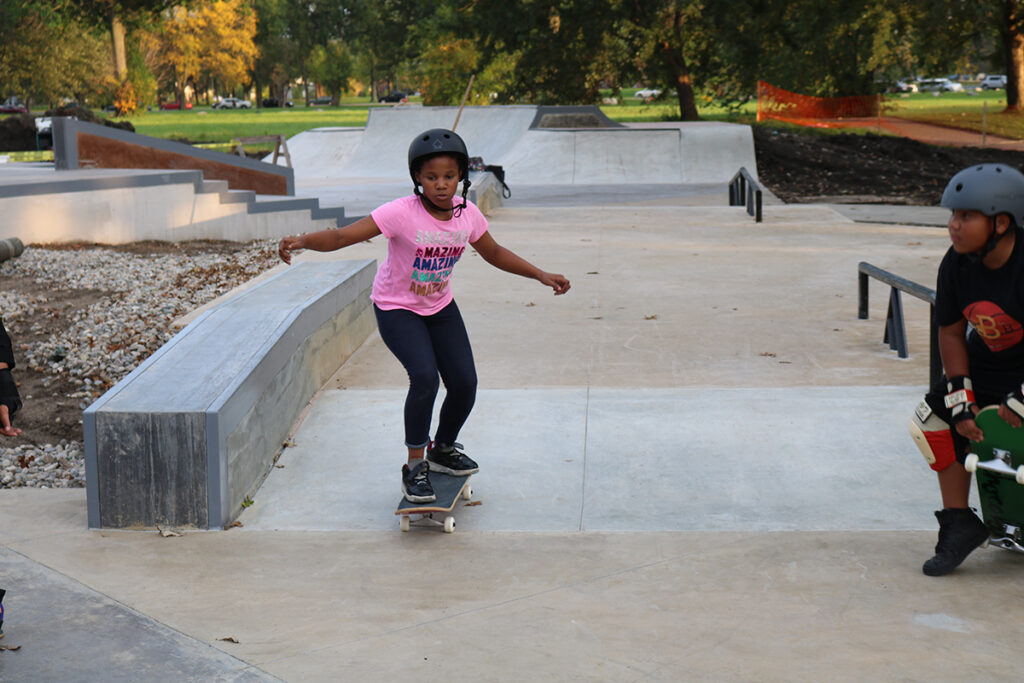 Q: What do you hope the skatepark does for Chandler Park's present and future?
AA: We want the skatepark and Chandler Park to be recognized as a place where families can come and create memories. We want to be a place where people can come exercise, have organized recreation, and learn a little bit about their environment. We want to be a destination for folks to create good, long-lasting memories. At the end of the day, that's what we're trying to do, all while being a good example for other city-run parks as well.
YB: And we want the next Tony Hawk to come from the east side of Detroit!
To learn more about the Built to Play Skatepark Program, its grant opportunities and ongoing efforts throughout Western New York and Southeast Michigan, visit The Skatepark Project at www.skatepark.org.