This is why the organization's entry into and eventual receipt of grant funding from the latest KaBOOM! Play Everywhere Challenge made so much sense. The department will use its winning "Play Here: Play Together" concept to create both an inviting space outside its community building, and promote the healthy play and interaction at the heart of its ongoing mission.
We recently caught up with Ringler-Cerniglia to discuss the Washtenaw County Health Department's work, its play space design, and to get some tips for those planning to eventually conceive their own Play Everywhere design.
Question: What led the department to devise an entry for the Play Everywhere Challenge?
Susan Ringler-Cerniglia: The idea of creating an active and welcoming space at the service complex has been discussed for years among staff, as well as visitors.
The Washtenaw County Health Department is located within the highest need zip codes in Washtenaw County. It is immediately accessible to surrounding neighborhoods and has its own bus stop. In spite of this ideal physical location and the often excellent services provided to community members within it, the complex itself is unwelcoming, challenging to navigate and provides no options for play, physical activity or respite for the individuals and families that may spend long periods of time on site to access services or resolve issues with public support programs.
Our concept encourages community members to think about public services and spaces differently. Too often, public spaces and the public servants within them are viewed as unfriendly and unhelpful.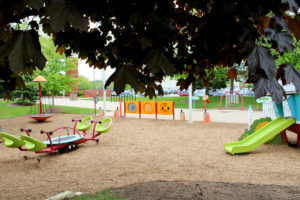 Q: What are the design elements, and how were they determined?
SRC: The "Play Here: Play Together" design includes two concepts: play features and interactive sidewalks. To create the initial concepts, staff reviewed the KaBOOM! Playbook, researched ideas, and talked with partners and vendors recommended by Washtenaw County Parks and Recreation Commission to incorporate features that are accessible for persons with disabilities and include health promoting themes and multiple languages.
After feedback from staff, building visitors, community members and partners, the final design for the play features was determined, and can be viewed at www.washtenaw.org/play. Once the equipment is installed, community members and volunteers, including staff and local Girl Scout Troops, will be invited to participate in creating the sidewalk art with a team of local artists.
Reshaping the external space by creating interactive play spaces for kids and families and transforming exterior sidewalks into bright, interactive visuals will promote physical activity and health. Features will be centrally located and highly visible from all entry points and will encourage play, welcome visitors, and improve navigation and accessibility. Elements will be interactive, multilingual, fully accessible and encourage play and activity for both children and adults.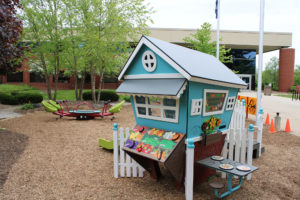 Q: How do you hope these elements will not only promote the expanse, but promote health throughout the surrounding community?
SRC: Short term, the site transformation will provide positive changes for community members and staff. Community members are often dealing with multiple issues or crises. A space that feels respectful and supportive can reduce stress. For parents or caregivers bringing children along for lengthy visits, the features will be a welcome distraction and an opportunity to be active together. For staff members who have long-cited the lack of site amenities, "Play Here: Play Together" will provide highly-visible improvements that support health.
Longer term, the proposed changes and investments support health, better access to services, and build greater trust in government entities. We cannot fulfill our mission of protecting and supporting health for everyone if community members most in need distrust government services. The health benefits of reducing stress and incorporating physical activity into regular routines are well established for both children and adults.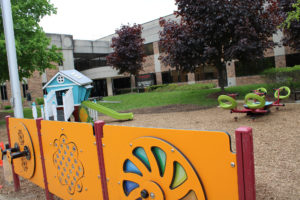 Q: When do you anticipate starting work on the space, and who will be involved to bring the space to completion?
SRC: We have completed our planning and design work, and our equipment was delivered May 14. Our vendor is installing the play features now. We will be setting dates shortly for the community to help with the sidewalk painting.
We've been working with a variety of community partners, leaders and customers to finalize design and play features. We'll also work with staff, partners, contractors and volunteers to carry out the painting part of the design and to install and stock little libraries on the finished site.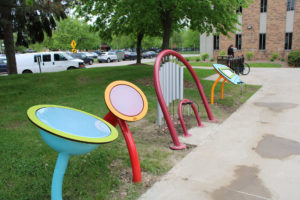 Q: If you could offer three tips to those planning to submit applications for the next Play Everywhere Challenge, what would they be?
SRC: Here you go:
If you're developing something new and perhaps unexpected for your site, be patient. Expect lots of questions and at least some negativity, no matter how great your concept.
Talk to people and partners. Invite input—lots of input—and be clear about how you will be using it. You will find out pretty quickly which elements of your concept are exciting and will be embraced and where you may need to revise, rethink or tread carefully.
If your project brings together multiple disciplines (such as health, art and parks), connect with your community partners early. We learned a ton about park features, planning, sidewalk art and more from local experts, which has helped shape our results and built excitement.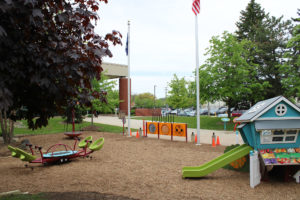 For more information on KaBOOM! and the Play Everywhere Challenge, visit kaboom.org/play_everywhere. For more info on the Ralph C. Wilson Jr. Foundation, visit ralphcwilsonjrfoundation.org.